The Hotel is a building in Hayward Valley.
Overview
[
]
The Hotel is an abandoned building located close to the south end of Hayward Valley, about 100m north of the Refugee Center.
Loot
[
]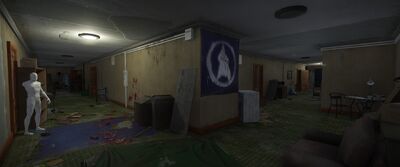 The Hotel features 4 accessible levels that spawn a variety of random mid-tier loot, ranging from Consumables, tools, Medical equipment, and Weapons.
The first 3 floors are accessible by stairs, while the 9th floor can only be accessed through the use of the Elevator. The Elevator is powered by a Generator on the 2nd floor, which requires a Battery, Drive Belt, Diesel Fuel and Oil to run. Good loot is often found on the 9th floor.