SUV is a randomly spawning, fixable and drivable vehicle in Miscreated.
Overview
[
]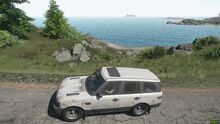 SUV is an offroad vehicle in game, there are only two that spawn on the map at a time. Typically the more common spawn points are found in the more affluent parts of the map like Cape Bay and Hayward.
The SUV can seat upto five people and is the slowest of the offroad vehicles. The lack of speed is a good trade-off for its very good handling and can easily deal with a variety of terrain which other vehicles struggle with. This vehicle has the ability to tow items and spawns in various colors.