The Sedan is a Vehicle in Miscreated based on the 1999 Ford Crown Victoria.
Overview
Edit
The Sedan is a Vehicle that seats 5 Players (2 in the front and 3 in the back). It is one the most common Vehicles around The Sedan is highly maneuverable and has a good top speed. It spawns in various colours and there is allways 4 of them that spawn, on top of the 4 regular style sedans there are also 2 taxi types and 2 police types that spawn. All of them have towing capabilities.
Variants
Edit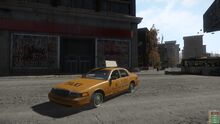 The Taxi variant of the Sedan has a look which is inspired by a cab of New York. It´s yellow with black writing on it. On the roof, it has a taxi sign. The performance is the same as of the normal Sedan. There are three styles of the taxi that can spawn randomly (there will always be two on the map spawned in any given variation). The three taxi styles are: Blix, Engoa, Fullout (writings and decals on the taxis themselves)
The Police variant of the Sedan has a look which is inspired by a police car of Los Angeles. In the front, it´s black, in the middle white and in the back black. On the hood and the trunk is a label saying ´Police´. In the front, it has an extra bumper. On the roof, the Police Sedan has a siren and round lights. The siren can be turned on by pressing ´T´. The top speed is higher than the top speed of the normal Sedan which makes the Police Sedan the fastest car in the game. There are always two police cars that spawn on the map at any given time.
Notable Spawns
Edit
Underground parking lot
Underground parking garage.
On the road in front of the East and West Route 88 gas stations
NOTE: These are not even close to all the spawns. Please add some if you know some, or better yet, a map of all Sedan, and Sedan variant spawns.
Community content is available under
CC-BY-SA
unless otherwise noted.